HOLLAND PATENT FREE LIBRARY WILL BE CLOSED UNTIL FURTHER NOTICE. MIDYORK LIBRARY HEADQUARTERS HAS SUSPENDED ALL LIBRARY HOLDS AND INTER-LIBRARY LOAN SERVICES. PLEASE CHECK OUR WEBSITE AND FACEBOOK PAGE FOR UPDATES. E-BOOKS, AUDIO BOOKS AND DIGITAL MAGAZINES ARE STILL AVAILABLE FOR USE THROUGH THE MIDYORK SITE. PLEASE USE BOOK DROP TO THE RIGHT OF THE LIBRARY DOOR WHEN RETURNING BOOKS. THANK YOU.
Frequently Asked Questions
Are there any library resources I can use while libraries are closed?
Yes. The Midyork provides a wide array of digital offerings, including e-books for borrow with our Hoopla, Libby and RBDigital online resources. Visit: www.midyork.org and click on Digital Downloads. You can also access educational and informative databases using the link for Online Resources & Research.
What if my items are due? Will I accrue late fees?
The due dates for all checked-out circulating materials have been extended to July 1, 2020.
Can I drop off my materials in outdoor book drops?
Yes, our book drop is available while we are closed.
What if some of my holds are ready for pick up?
Holds that are listed as ready for pick-up will be held until July 1. Please disregard the pick-up by date listed in your account.
PRE-SCHOOL STORY TIME
ON FRIDAYS CANCELED UNTIL FURTHER NOTICE

PRE-SCHOOL STORY TIME FRIDAYS @ 10:30 A.M.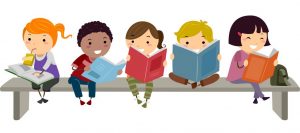 SPRING HOURS
MONDAY & TUESDAY 4 – 7 P.M.
WEDNESDAY & THURSDAY 2 – 6 P.M.
FRIDAY & SATURDAY 10 A.M. – 1 P.M.
CLOSED SUNDAY
Community Links:
Village of Holland Patent
Holland Patent Schools
More Resources: A great resource for finding books in a series or more books by the same author: http://www.fantasticfiction.co.uk/